Specialist Plastic Surgeon Melbourne
Committed to Plastic Surgery Excellence
Dr Sally Ng is a fully qualified, Melbourne trained specialist plastic and reconstructive surgeon, who lives by her philosophy of patient centred care. Sally is a member of the Royal Australasian College of Surgeons and the Australian Society of Plastic Surgeons, as well as an international member of the American Society of Plastic Surgeons.
Sally received the prestigious Sir John Monash Award for Excellence Scholarship to undertake her Bachelor of Medicine and Bachelor of Surgery (MBBS) degree at Monash University, graduating in 2005. She was awarded her Fellowship in Plastic and Reconstructive Surgery in 2016, and currently works as a Plastics Surgery consultant at multiple leading Melbourne public hospital networks, in addition to her own private practice. Sally has completed additional subspecialty reconstructive microsurgery training at the Ninth People's Hospital in Shanghai and at the Reconstructive Microsurgery European School (RMES).
Sally is a leading role model and mentor for upcoming plastic surgery trainees. She is the Plastic Surgery Training Program Supervisor at a major Melbourne public hospital network, and a qualified instructor for the Royal Australasian College of Surgeons surgical skills and trauma management courses. She has authored multiple international peer-reviewed journal publications to improve quality of care and surgical standards.
Sally also has extensive leadership experience in various professional and community-based organisations.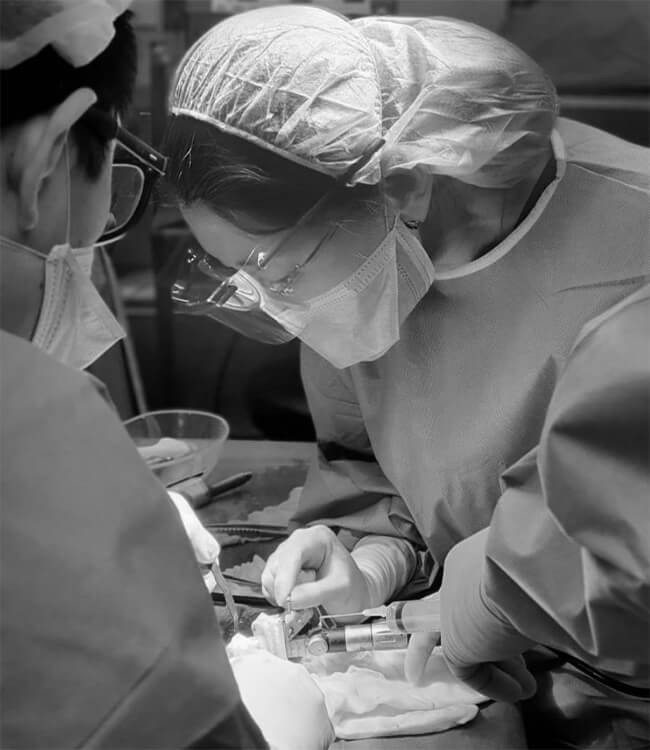 Devoted to Providing Natural-Looking Results
Plastic surgery aims to restore the normal appearance and function by reshaping the structures of our body. Issues addressed by plastic surgery are commonly congenital, or due to cancer or trauma. Others may be due to pregnancy or significant weight changes. The decision to have plastic surgery is extremely personal and it should be done only for you, and not for someone else. Dr Sally believes in providing results that can improve one's self esteem with little evidence of surgical intervention. Patients with a positive outlook and realistic expectations are the best candidates for surgery, and Dr Sally will be with you every step of the way to maintain these elements.
During the consultation, Dr Sally will take her time to listen to your concerns and assess your surgical needs. She will provide you with your best treatment options based on her professional knowledge and experience, whilst balancing and discussing the benefits and potential risks of each option. Plastic surgery involves many choices and it is important to understand that each treatment recommendation is highly individualised to your particular situation. Dr Sally believes in building a trusting partnership with each of her patients so that there is shared decision making on each step of your surgical journey.
Patient safety and high quality care are key priorities in our practice. Dr Sally and her team will ensure you receive ongoing scheduled care to achieve the best outcome from your procedure.
Dedicated to Delivering
Outstanding Patient Care
Dr Sally holds an impressive portfolio of specialist plastic surgeon positions at multiple major Melbourne hospital networks, with a subspecialty interest in cancer reconstructive microsurgery.
She is an active member of the breast, head and neck, complex skin cancer and melanoma services in her public hospital networks. Dr Sally's commitment to public healthcare, as well as her own private practice, maintains her knowledge and surgical skills at the leading edge of current best practice, to the benefit of her private clients. She is also a burns specialist of the Victorian Adult Burns Service (The Alfred Hospital), where Dr Sally pursues her interest in complex scar reconstruction.
As evidenced by Dr Sally's dedication and experience with complex surgery in her public hospital capacities, our practice provides high standard aesthetics and reconstructive plastic surgery procedures, with a special interest in breast, skin cancer and body contouring surgery, in addition to acute trauma reconstruction and scar revision.
Dr Sally is additionally able to consult in fluent Cantonese and Mandarin.
Ask a question or book an appointment at our Melbourne clinics
Leave any questions you have below along with your details and our team will get in touch with you as soon as possible.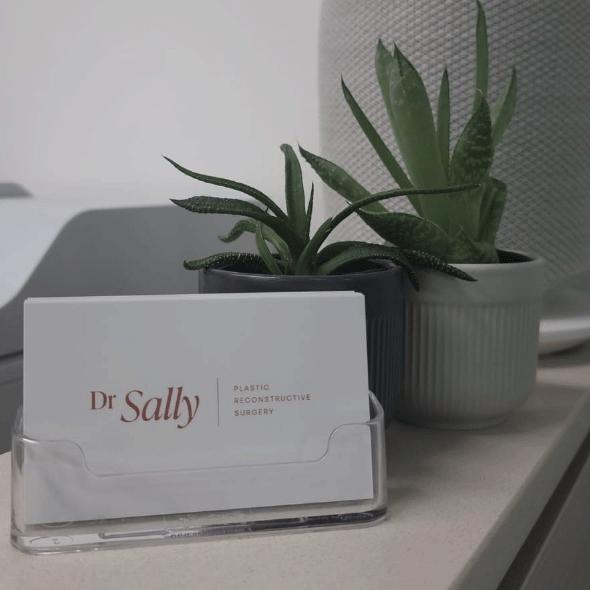 I am a specialist plastic and reconstructive surgeon in Melbourne who believes in a patient-centred approach toward your care. I am here to guide you every step of the way, and work together with you to achieve your best outcome.